Projects
Cluster Digital Substaton (IEC 61850)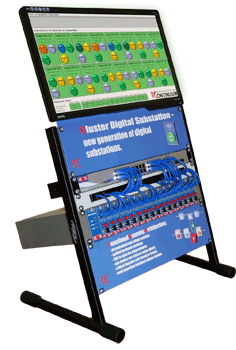 Cluster Digital Substation (CDS) is a novel hardware & software solution for electrical power substation automation, based on IEC 61850 and the Functionally Dynamical Architecture technology.

The following are the major objectives of a CDS:
Economical: CAPEX and OPEX reduction;
Reliability: Improvement of automation infrastructure fault-tolerance and reliability.


CDS is based on:


Unified computational modules.
The cIEDs (compact Intellectual Electronic Devices) are the microprocessor modules serving as the computational core of CDS. They perform all the functions of substation automation (relay protection, control, measurements). Allocation/distribution of these functions between cIEDs can be based on dynamic, static, or mixed rules.
Industrial chassis for cIED installation.
The chassis provides mechanical fastening, power supply, and backplane inter-cIED communication.


We have a prototype solution, with a ready to use hardware platform and much of the software core algorithms. We have obtained patents on the key elements of the technology. Now we are searching for investors to push the technology to the market stage.

[Cluster Digital Substation. Download Datasheet in .pdf format]
Details ...
Kontinuum3D - additive technology of manufacturing electrical equipment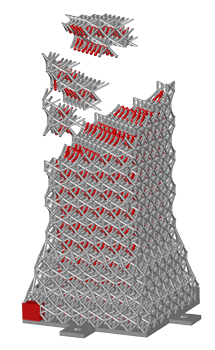 Kontinuum 3DTechnology – innovative manufacturing technology for production of electric power measurement equipment for various applications.

We are creating a new generation of manufacturing technology for the electric power equipment production, including voltage and current instrument transformers.

We suggest manufacturing power equipment using unified 3D printing technology. It invokes different types of conductive and insulating materials in the 3D printing process.

Existing technology requires complex and numerous equipment, rare materials (e.g. precious metals, which price is continuously rising), various specialists, expensive machine or hand labor. Our technology allows to create small and medium scale "on-demand" manufacturing. It does not require much capital investment and can easily be re-oriented for production of another equipment types. It can be used for on-site production to eliminate the transport costs. In general it is expected to reduce the prime cost for about 15-20%.

The technology provides rapid access to manufacturing of new line of products or customized products with special characteristics. A large field of applications for this technology is production of current and voltage instrument transformers .

We are working on the improvement of technology, materials, new structures and fields of application. We have investigated the available third-party technology, identified its limitations and capabilities, and protected our intellectual property. Our main focus are the solutions for manufacturing of the instrument transformers. We have fully formed the project team which can successfully finalize and carry out the project up to commercialization stage.

[Kontinuum3d. Download Datasheet in .pdf format]
Details ...
Wideband Precision complex for High Voltage AC/DC/Impulse measurements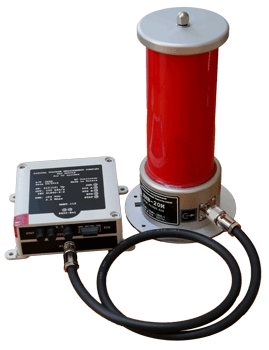 KMBT is intended for continuous measurements of high voltage signals for laboratory and industrial applications.

Typical areas of application are: HV power electronics, applied physics (particle accelerators, electron microscopy, etc.), electromedical (X-ray) and communication equipment testing and so on.

Digital data format
Complex generates IEC 61850-9-2 data stream of sampled values via Ethernet link (about 100 Mbit/s per stream). Thus no additional loss of accuracy coming from analog data transmission paths is introduced.

High accuracy
DC Voltage measurement accuracy: δ=±0.1% in range from 1 to 120% Urated.
AC Voltage measurement accuracy: δ=±0.5% in range from 1 to 120% Urated.
Bandwidth (-3dB): 20 kHz
IEC 61850 SV Sample Rate: 100 kHz

Easy deployment and system scaling
Complex can be easily mounted in any place of measurement. Multiple digital data streams can be handled using Ethernet switches.

Guaranteed insulation
Optical ethernet link ensures reliable galvanic separation of complex from the data receiver.

Precise synchronization
Optical 1PPS synchronization channel or PTP IEEE 1588 Ethernet synchronization provides sample timing accuracy up to ±1 μs (UTC)

Different rated voltages available
Low voltage measurement and communication block can be paired with a wide range of high voltage dividers with the rated voltages from 2kV to 100 kV

[KMBT High Voltage Measurement System. Download Datasheet in .pdf format]
Details ...
IEC 61850-9-2 Preprocessor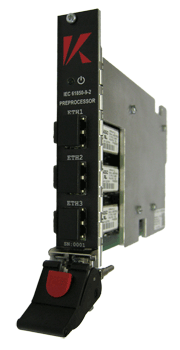 IEC 61850-9-2 Preprocessor is used to offload the resource demanding task of receiving and handling IEC 61850-9-2 data streams from the central processor.
Receive multiple SV Streams in IEC 61850-9-2 format;
Perform communication and service tasks;
Mathematical operations on received data.
[IEC 61850-9-2 Preprocessor. Download Datasheet in .pdf format]
Details ...
Multifunctional power quality analyzer SHMK96/SHMK120S/SHMK120SP
SHMK96 is a modern digital measurement instrument, providing accurate three-phase measurements of AC electrical quantities. It also enables power quality assessment according to present standards.

The Power Quality Analyzer SHMK96 is intended for continuous measurements of electrical power and power quality parameters in three-phase AC networks. It can be used to control the conformity of power quality with EN50160 norms.

PQI120 (PQI96) is a IEC 61850 ready digital measurement instrument, providing accurate three-phase measurements of AC electrical quantities. It enables power quality assessment according to present standards and also functions as a commercial revenue meter


Details ...
Current Transformer SHTT-0.95
Current transformers SHTT-0.95 is intended to be used in systems of electric technical record-keeping and revenue metering with nominal grid voltage up to 0.95 kV.

SHTT-0.95 is designed to simplify and accelerate the installation in switchgears of various types and technical conditions.

Current transformer SHTT-0.95 is listed in the National Register of Measuring Equipment under the number 57345-14.
Recalibration interval is 8 years.
Current measuring transformers complie satisfy the requirements of GOST 7746 and technical regulations of the Customs Union 004/2011.
Details ...
IEC-61850 Process Bus Analyzer
The IEC 61850 Process Bus Analyzer provides on-line analysis of data streams in IEC 61850 Process Bus, including sampled values data streams (IEC 61850-9-2 / 9-2LE) and GOOSE (IEC 61850-8-1).
The Analyzer is intended for type, routine, FAT, SAT and other tests of IEC 61850 Substation Automation Systems (SAS) and components of SAS, including communication network, separate IEDs, communication network equipment (Ethernet switches), etc.

The device has a portable form factor enclosure resistant to shocks, precipitation and temperature variations.
The Analyzer contains the following interfaces: Ethernet ports (copper and fiber optic), touch screen, IRIG-B synchronization interface and USB interface for data export. Internal battery provides for autonomous operation.
The device offers essential and deep analysis of intensity, structure and contents of IEC 61850 communication traffic. The results are available in a user-friendly form, which is understandable without detailed knowledge of Ethernet networks technology and specifics of IEC 61850 standards.
Details ...
Digital Recorder R1
Digital recorder R1 is an acquisition system for capturing and monitoring of large amounts of electrical quantities. The device is designed to receive and process digital data streams in IEC 61850-9-2 format.

Captured waveforms are saved to COMTRADE files. The files are available for download through the service port (FTP) or via USB (flash memory).
Details ...
Phasor Measurement Unit
JSC EC Continuum together with russian leading power engineering universities developed Phasor Measurement Unit. This device complies with the new standards IEEE C37.118.1-2011 and IEEE C37.118.2-2011, and with Russian standards as well.

The devices serves as a base for Active Adaptive Grid and WAMPAC systems of new generation. One of the key specifications of the device is its ability to work with IEC 61850-9-2 data flows. Besides, the device supports IEC 61850-8-1 and IEC 60870-5-104 protocols.
Details ...
Stand Alone Merging Units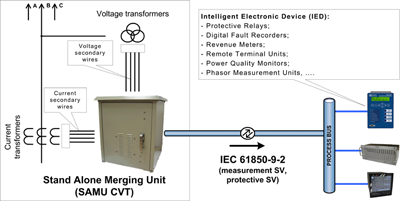 While implementing the order the company developed Stand Alone Merging Units: the devices forming IEC 61850-9-2 data flow when connected to conventional current and voltage transformers with analog outputs. Thus, the device provides high technical and economical effects connected with implementation of electronic transformers and the process bus.

The device is both protection (connection to protective winding and forming of sampled values dataflow for protection) and measurement (connection to measuring winding and forming of sampled values dataflow for measurement). The key features of the device are as follows:
complexity: the device does not require any additional elements or transitional terminals. The construction is simple both in mounting and in operating of secondary circuits and of the device itself.
installation near current and voltage transformers: it is an outdoor device, operating in the temperature range from -55 °С to +55 °С.
Pilot project of Digital Substation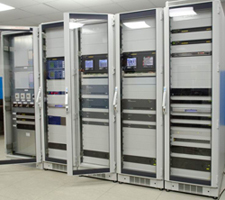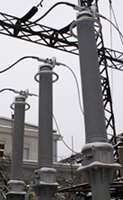 The company's experts took part in the realization of the first operating Digital Substation.

The first stage of works (2010) included implementation of optical transformers with a digital output, high-speed process communication network and IED complex with the support of IEC 61850-9-2.

In 2011 the system was complemented by relay protection terminal with the support of IEC 61850-9-2, stand alone merging units and a phasor measurement unit using a digital flow IEC 61850-9-2.
Concept of hardware and software complex "Digital Substation"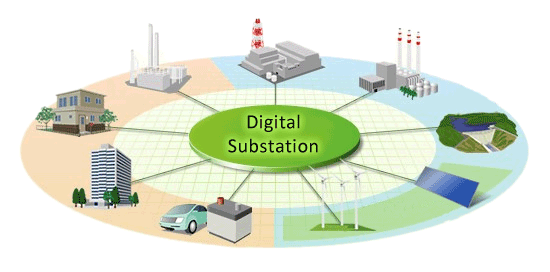 The company's experts actively participated in the development of the foundational technical document on the subject of Digital Substation called "Concept of hardware and software complex Digital Substation". The fulfilled works were highly appraised by the Customer and by the Society of Russian experts.

Within the framework of this project Russian and international standard were used, as well as the situation of power engineering sector the ways of its prospective development were taken into consideration. The further study widened and specified the standards for Digital Substation. The results of this work were taken into account at defining the technical policy of OJSC FSK on Digital Substation.