Research is carried out with grant support
from the Skolkovo Foundation

Current transformer SHTT-0.95
Current transformers SHTT-0.95 is intended to be used in systems of electric technical record-keeping and revenue metering with nominal grid voltage up to 0.95 kV.
Design features
Transformer design

Current transformer SHTT-0.95 is designed to simplify and accelerate the installation in switchgears of various types and technical conditions.

Transformer secondary circuits

Current transformer SHTT-0.95 has secondary circuits of prefabrication (custom length is up to 5 meters). Cable of secondary circuits is a constructively integral part of transformer and does not require additional connections and sealing from the transformer's side. Secondary circuits are completed by U shaped cable lugs (ordering option) that simplify connection to the electricity meter or a test terminal box.
Electric flat busbars mounting
Current transformers SHTT-0.95 provide the ability to be installed on electric flat busbars. A sleeve is included in complete set of SHTT-0.95 (sleeve dimensions: height of 37 mm, diameter of 30 mm). The sleeve is placed inside of the transformer window and provides the connection between two electric flat busbars or between flat busbar and cable lug. Connection is made using the metalware set: M10 screw, flat washers, washer-grower, nut (do not include in the delivery set). The sleeve is fixed inside the transformer with a special insert.
Technical specification
Maximum nominal/ operating voltage, kV
0,95 / 1,0
Number of secondary windings
1
Nominal primary current Inom, А
150, 200, 250, 300, 400, 500, 600
Nominal secondary current, А
5
Accuracy class as per GOST 7746
0,5S
Instrument Security Factor, Кsmom
10
Short-time thermal current (1 sek.), А
60· Inom
Conductor section of secondary cable, mm2 (for secondary cable of standard length)
2.5
Standard lengths of secondary cables, m (other lengths are to be agreed with the manufacturer)
0,5
2,0
4,0
5,0
Rated secondary burden at cos φ = 1 V·А* (given the corresponding length of the secondary cable)
2,5
2,0
1,0
1,0
* - for rated secondary burden at the end of a secondary circuit cable.
Dimensions (mm)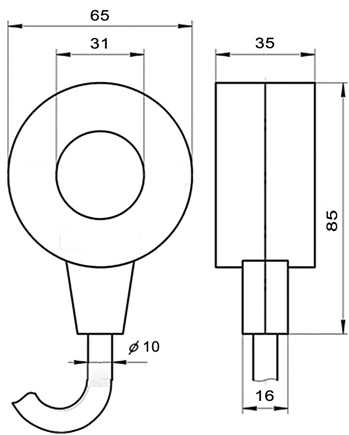 Compliance
Current transformer SHTT-0.95 is listed in the National Register of Measuring Equipment under the number 57345-14. Recalibration interval is 8 years.
Current measuring transformers complie satisfy the requirements of GOST 7746 and technical regulations of the Customs Union 004/2011.
Practical experience with SHTT-0.95
| | |
| --- | --- |
| | Experience with SHTT shows that the use of SHTT-0.95 reduces the installation time by more than two times and reduces the amount of used materials. The greatest effect is attained on old switchgears (since the number of affected elements is minimized) or on switchgears where mounting space is limited (on account of the compactness of the transformer and the use of different attachment methods). |
Order specification
SHTT – 0,95-I-[AAA]/5-0,5S-[L]-[M]

[AAA] – primary current (A): 150, 200, 250, 300, 400, 500, 600;
[L] – length of pre-terminated secondary circuits (m);
[M] – accessories:
В - mounting using the sleeve (sleeve and insert are included in our kit)
Packaging
Standard packaging includes a carton box with 9 transformers, accessories for mounting and a pack of passports.
Other packaging or completing set must be agreed at the time of order.